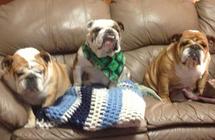 Advice on buying a Bulldog Puppy
Some sound advice would be to first choose a reputable breeder and secondly, do not price shop!
Bulldogs of good breeding are not cheap. You may end up spending more than the purchase price
of the dog at the vet, if you just buy the cheapest puppy you can find. There are no rare colors in bulldogs.
There are certain coat and eye colors deemed undesirable by the American Kennel Club(AKC).
Unfortunately, certain people feed off of the public's lack of bulldog knowledge and sell "rare"
colored pups for higher prices. You should acquaint yourself with the AKC Bulldog Standards.

Our Goal
Our goal at G's Bulldogs is quality, not quantity. Breeding healthy and conformationally correct
Bulldogs is nether cheap nor easy. We have a lot of money invested in our dogs, their care and comfort.
DO NOT ask us to reduce the price of our puppies. We do not negotiate. Most puppies go to new homes
between 8-10 weeks of age. Puppies go to their new homes having been vet checked, dewormed, vaccinated
and microchipped.

If you live far away...
If you live far away, you have the option of flying to our airport and we will meet you there. You can bring
the puppy home as a carry-on. You must have an airline- approved dog bag for your puppy. If you cannot
fly to us, we can fly the puppy to you, in the care of a puppy nanny.

Our Policies
G's Bulldogs sell our puppies to PET homes only. We do not sell our puppies to breeders. All buyers must sign
our spay/neuter agreement. We are very careful with who we sell our puppies to and reserve the right to refuse
to sell to anyone. If you are interested in our puppies, please give us a call. We keep a waiting list. We also refer
potential families to other reputable breeders when we don't have puppies. We look forward to hearing from you!